The Rajputana of the old is the land of Rajputs – brave and chivalrous people with warlike lifestyle – around who grew the most amazing legends of romance and heroism. No more spectacular land exists in the whole world, no more stirring histories are as concentrated in any one region as Rajasthan, where a proud and mysterious people have built forts and palaces, temples, and mansions.

Rajasthan has a total area of 343000 sq. km. The Aravalli range, which runs from north -east to southwest for about 688 km, divides it into two regions with totally different geographical features. Everything here is breathtakingly beautiful, impressive and fascinating.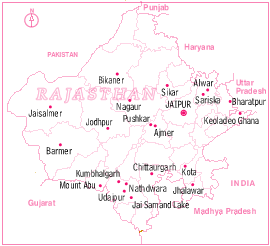 Rajasthan is the north-western region of India, and has remain independent from the great empires. Buddhism failed to make substantial inroad here; the Mauryan empire (321-184 BC), whose most renowned emperor, Ashoka, Converted to Buddhism in 261 BC, had minimal impact in Rajasthan, However, there are Buddhist caves and stupas (Buddhist Shrines) at Jhalawar, in Southern Rajasthan.
Ancient Hindu scriptural epics make reference to sites in present-day Rajasthan. The Holy Pilgrimage site of Pushkar is mentioned in both the Mahabharata and Ramayana.
Emergence of the Rajputs
The fall of the Gupta Empire, which held dominance in northern India for nearly 300 years until the early 5th Century, was followed by a period of instability as various local chieftains sought to gain supremacy. Power rose and fell in northern India. Stability was only restored with the emergence of the Gurjara Partiharas, the earliest of the Rajput (from 'Rajputra', or Sons of Princes) dynasties which were later to hold the balance of power throughout Rajasthan.
Whatever their actual origins, the Rajputs have evolved a complex mythological genealogy. This ancestry can be divided into two main branches: the Suryavansa, or Race of the Sun (Solar Race), which claims direct descent from Rama; and the Induvansa, or Race of the Moon (Lunar race), which claims descent from Krishna, Later a third branch was added, the Agnikula, or 'Fire Born'. These people claim they were manifested from the flames of a sacrificial fire on Mt.Abu From these three Principal races emerged the 36 Rajput clans.
The Rajput clans gave rise to dynasties such as the Chauhans, Sisodias, Kachhwahas and Rathores. Chauhans of the Agnikula Race emerged in the 12th century and were renowned for their valour. Their territories included the Sapadalksha kingdom, which encompassed a vast area including present- day Jaipur, Ranthambhore, part of Mewar, the western portion of Bundi district, Ajmer Kishangarh and even, at one time, Delhi. Branches of the Chauhans also ruled territories know as Ananta (in present-day Shekhawati) and Saptasatabhumi.
The Sisodias of the Suryavansa Race, Originally from Gujarat, migrated to Rajasthan in the mid-7th Century and reigned over Mewar, which encompassed Udaipur and Chittorgarh.
The Kachhwahas, originally from Gwalior in Madhya Pradesh, travelled west in the 12th century. They built the massive fort at Amber, and later shifted the capital to Jaipur. Like the Sisodias, they belonged to the Suryavansa Race.
Also belonging to the Suryavansa Race, the Rathore (earlier known as Rastrakutas) traveled from Kanauj, in Uttar Pradesh. Initially they settled in Pali, south of present-day Jodhpur, but later moved to Mandore in 1381 and ruled over Marwar (Jodhpur). Later they started building the stunning Meherangarh (fort) at Jodhpur.
The Bhattis, who belong to the Induvansa Race, driven from their homeland in the Punjab by the Turks, installed themselves at Jaisalmer in 1156. They remained more of less entrenched in their desert Kingdom untill they were integrated into the state of Rajasthan following Independence.
Districts of Rajasthan
Ajmer, Alwar, Banswara, Baran, Barmer, Bharatpur, Bhilwara, Bikaner, Bundi, Chittaurgarh, Churu, Dausa, Dhaulpur, Dungarpur, Ganga Nagar, Hanumangarh, Jaipur, Jaisalmer, Jalore, Jhalawar, Jhunjhunu, Jodhpur, Karauli, Kota, Nagaur, Pali, Rajsamand, Sawaimadhopur, Sikar, Sirohi, Tonk & Udaipur.
State Capital -Jaipur
Population ('000s in 1991) -44,006
Area ('000 sq. km) -342
Females per 1000 males (1991) -910
Literacy rate (1991) -38.6%
Net Domestic Product – (Rs. million at current prices in 1992-93)229,360
Per Capita Income – (Rs. at current prices in 1992-93)5,035
Principal Languages –Hindi and Rajasthani
Life in the desert
Despite the challenges that the arid environment of the Thar Desert throws over a large tract of the state – people have innovated in their own small ways to make the arid sands habitable and created agricultural and pastoral settlements. The most colorful villages in the Thar are to be found on the Shekhawati tract with well-built houses, usually with painted walls and beautiful decorations and wall paintings.
Agriculture
Rajasthan's economy is mainly agriculture-based. About 80 percent of the population lives in rural areas. Cereal crops such as bajra, juar, wheat and barley cover the largest cultivated area. Major irrigation projects Such as the Indira Gandhi canal have helped green the arid regions of Bikaner and Jaisalmer. Other schemes have also developed on the Chambal and Luni rivers, as well as in Ganganagar. The western region grows predominantly kharif (monsoon) crops, while the eastern belt, which has better rains and soil, grows both kharif and rabi (winter) crops. Three important crops grown here are wheat, corn and millets
Haats (Rural Bazaars)
The delightful and colorful bazaars of Rajasthan still have a distinct easygoing atmosphere. Nothing much seems to have changed – not even the commodities in the market. In the old days, the bazaars were segmented product-wise – an entire lane of lac bangle makers, a market of utensil makers and so on, a tradition very much in place today.
The numerous fairs and festivals are essentially an opportunity for people from far and wide to converge and shop. One can pick up exotic trinkets, beads, bangles, old tribal silver jewelry, a range of handicrafts and of course, animals.
Air Transport
Indian Airlines and private air taxi operators – offer regular fights to New Delhi and Bombay from Rajasthan. In addition to Jaipur , Jodhpur and Udaipur are also airlinked. Jaisalmer and Kota are likely to be airlinked soon. Jaipur, Udaipur, Bikaner, Kota are Jaisalmer are included in the list of cities open to private air taxi operations. The State has an air cargo complex at Jaipur. A similar facility has been developed at Jodhpur and Udaipur. Jaipur airport is expected to be developed as an Full-Fledged international airport by the end of the 2003.
Rail Transport
All major towns and most district headquarters in the State have rail links for both passenger and goods traffic.
At present, most destinations in the State are served by meter gauge railway, while the majority of the rail network in North and West India is broad gauge. However a major track renewal programme to convert existing meter gauge routes to broad-gauge is under implementation. This would take the BG network in Rajasthan upto 55% as against the present 21.5%. Large part of the broad-gauge conversion work is now complete. Jaipur now had direct broad-gauge connection to Delhi through Rewari. Jaipur and Sawai-Madhopur have already been linked on Broad-Gauge under this programme thereby connecting it to Bombay through Kota. Track renewal from Phulera-Degana -Merta Road -Jodhpur is also complete. Similarly the track from Kolayat-Lalgarh-Bikaner-Merta is also now on broad-gauge. Alwar-Mathura route is also converted.
On completion of the work, Jaisalmer would also be brought on the broad-gauge network. The Marwar-Ahmedabad route will also be broad-gauge thus bringing Jaipur on the prestigious Delhi-Ahmedabad route.
Road Transport
The total Road Mileage in Rajasthan is 2846 km of National Highway and around 58680 km of State Roads and Rural links roads. Four national highway i.e. No.8 (Delhi-Ahmedabad), No. 11 (Agra-Bikaner) No.15 (Bhatinda-Kandla) and No.12 (Jaipur-Bhopal) pass through Rajasthan. Roads provide the most convenient mode of travel between Delhi and various industrial locations in eastern Rajasthan, most of which are 1-3 hours of comfortable road journey from Delhi. All district and subdivisional towns have direct bus service to Jaipur. Jaipur and other major towns are connected to each other and to Delhi and Ahmedabad (largest city in neighbouring Gujarat) by deluxe bus services.